Calico Critters Satin Lops
We got our first Satin Lop today, Jan 3, 2002. He is a red Jr. buck and will be our foundation buck for this breed. Our doe will come latter from one of two litters the originator currently has.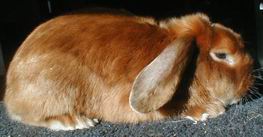 We named our new baby Rojo. He was not very happy to have his picture taken. When he is calm his ears do hang down like they are supposed to but as you can see he does have a lot of ear control when upset.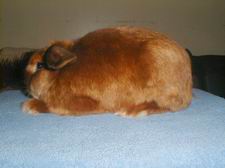 This picture taken Jan 10th shows his topline a bit better now that he has had a chance to settle in and calm down. I love his color and sheen.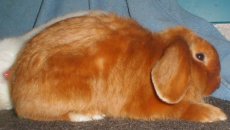 This little guy is Papa. He is named after a friend in one of my chat rooms who raises very nice red Satins. This picture was taken in January. The white rabbit hiding behind him is a large Holland Lop.
Some nice shots of Rojo's head. Notice that this is not a typical flat faced Mini Lop or French Lop face.