Wind Blown Otters
Lars

Lars is a young chocolate otter from Glory Bound Rabbitry. Lars was born Nov 7, 2000. He is 7 weeks old in the scale. He is almost 9 weeks old in the other two pictures.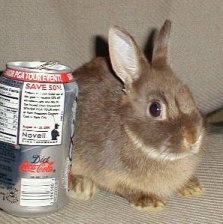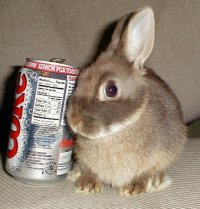 Lars at 3 1/2 months old. The coke can is to give you an impression of his size. He has lovely chest color and deep chocolate even though you can't see it in these pictures.
Tuffy
Tuffy is an adult blue otter. I bought him as a jr in August of 1999 at the Wyoming State Fair. He was bred by a 4H member in northern Wyoming. His name comes from his habit of thumping whenever set down either in a cage or on table. As you can see he thinks he is hot stuff. His daughter BJ has the same attitude.

Graphics on this page is from: