F1 Litters
These litters are part of a breeding program to produce broken patterned Netherland Dwarfs.

Litter 1
Litter 1 is from a Broken Polish buck x a REW Netherland Dwarf doe. It was born 25 Jun 2001 and consisted of 3 live babies and 1 dead. No peanuts.
There are 2 REW babies and one apparently HOTOT patterned baby! This baby has eye markings black behind the ears and the tiny dots on the rump. We believe this is an extreme lightly marked broken. Time will tell.
Here they are at 3 days old, boy does that eye jump out at you.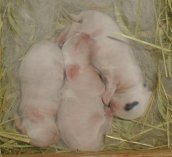 Litter 2
Litter 2 is from the same Broken Polish buck x a Smoke Pearl Marten Netherland Dwarf doe.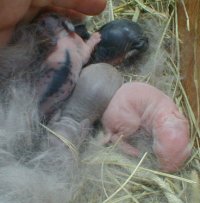 It was born 25 Jun 2001 and consisted of 4 live babies and 1 dead. No peanuts. This litter has a REW, a black otter, a broken black?, and a sable?
The broken is well marked as you can see in these pictures. I hope this is a buck as it would be a good addition to the breeding program.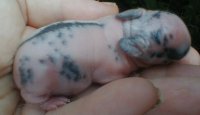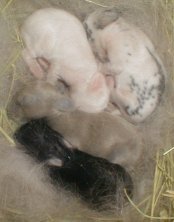 Diamond Lil's babies at 3 days old. The little light grey, silvery one is turning brownish. It is laying just above the black otter baby.

Litter 3
This litter was born on 8 Jul 2001.. It was born after only 27 days of pregnancy. There was no box in the cage and no fur was pulled. The do appear to have been cleaned but not feed.
This litter lived only one day before dying. They were simply not ready for this world .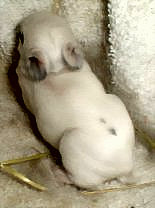 These are my sought after broken babies. These guys are my F1 "Jellybeans". On the left is my "Hotot" marked baby from Katie. On the right is my well marked broken from Lil. Below is a picture of both babies lying next to each other. The broken from Lil has turned out to be a Broken Black Otter! What a great surprise.