The Agouti Group

The Agouti Group in Netherland Dwarfs has five colors. Agouti is a term used to mean ringed hair shafts. All colors in this group have at least 3 distinct rings of different colors on each hair shaft.
Opal

Wilde Thing is still a baby in these pictures. I fell in love the first time I saw him and his brother at the ripe old age of 3 weeks. The brother was sold and they had an offer for Wilde Thing when Barb remembered I had said I wanted him or his brother. I was thrilled when she called asking if I was still interested. Wilde Thing came home on Good Friday, which explains the Cadbury egg.
Wilde Thing is only 2 1/2 months old in these photos.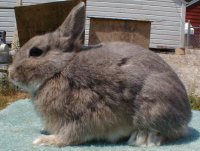 Opal is a grayish brown color, each hair shaft has rings of slate-gray, fawn, and "blue". They look very much like the wild rabbits where my husband works. In this picture Wilde Thing is in a molt. That is why he looks shaggy. You can clearly see the brown gray color on the shaggy area where he is not yet growing new hair.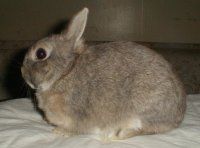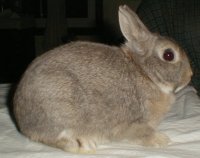 Wilde Thing has both grown up and finished molting. Isn't he lovely now. He is 7 1/2 months old in these pictures.
Lynx

This is a difficult color to both describe and breed. A good lynx should give the impression of having silver shot orange fur.
April is 4 months old in these photos. That is my food scale she is sitting in. She weighs 2 1/2 pounds at this time. I hope she will not get much larger.

April has grown up some. She is now 5 month old and you can really start to see her lilac tipping in these pictures. Doesn't she have a beautiful face? I call her my toy palomino.
The Bar graphics on this page are from:
All other graphics are from: